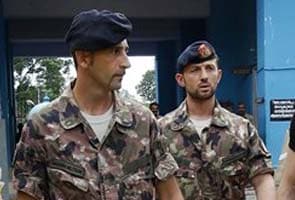 New Delhi:
India on Wednesday said it will "not compromise" on its stand that the two Italian marines held in Kerala over the killing of two fishermen will be tried in Indian courts as per the law of the land.
"I think we have very consistently taken the position that the law of the land would be applicable to these two marines. They will have to go through the process of trials and prove innocence in a court of law in India and we will not compromise on that," External Affairs Minister SM Krishna told reporters in the capital.
"We are in close touch with the state government and we have told the state government to proceed according to what they feel is right," Krishna said.
Krishna was responding to questions on Italian President Giorgio Napolitano claiming that the two Italian marines -- Massimiliano Latorre and Salvatore Girone -- have been "unjustly" detained in India.
The two marines, who were serving as the security crew aboard Italian cargo vessel Enrica Lexie, were held by the Kerala police in February this year and charged with shooting down two Indian fishermen -- Ajesh Binki, 25, and Gelastine, 45 -- allegedly mistaking them as pirates off Alappuzha.
Italy has maintained that the incident happened in international waters, while India claims that it has jurisdiction to prosecute the marines as the shooting happened on board an Indian boat.
The two marines were given bail by the Kerala High Court on May 30 on a personal bond of Rs 1 crore each with two Indian sureties, but asked to surrender their passports and not to leave the area.