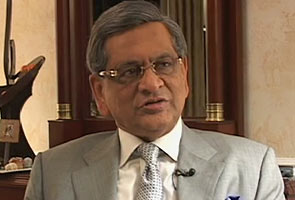 Bangalore:
The Karnataka Lokayukta court has ordered a probe against Minister of External Affairs SM Krishna and other top state politicians after allegations of irregularities in acquiring farmers' land for the Mysore-Bangalore Expressway.
Former Prime Minister HD Deve Gowda and former Karnataka chief minister BS Yeddyurappa will also be probed, among others. Both Mr Krishna and Mr Gowda have served as Karnataka chief ministers.
A private complaint was filed at the Lokayukta Court, alleging that the close to 7,000 acres of land acquired for the toll-road violated the law and adequate compensation was not paid to the farmers. It has demanded that the land be returned to the farmers. It also wanted the toll collected on the Expressway to be deposited in custody of the court, saying it was illegal. The complaint was filed by activist T J Abraham.
The Lokayukta court has asked the Lokayukta police to investigate the matter.
The 100 km expressway has been caught up in legal and infrastructure issues from the time of its inception in the 1995 when Mr Deve Gowda was the CM and it is still not complete.
Ironically, Deve Gowda had launched a virtual crusade against the project and Ashok Kheny, the head of the Nandi Infrastructure Corridor Enterprise, the company that is building it. He also alleged the company had grabbed more land than it needed for the road project. The company had approached the Supreme Court which had ordered the Karnataka state government to cooperate and execute the project. This did not happen and a contempt petition is still before the Supreme Court.
The project cost was initially projected at Rs 1,500 crore but is now estimated at around Rs 4,000 crore. In all, more than 20,000 acres of land would be needed, not just for the road but for townships and associated ventures. The first phase, consisiting of peripheral roads around Bangalore, has been completed. But only 56 kilometres of the planned expressway has been built.