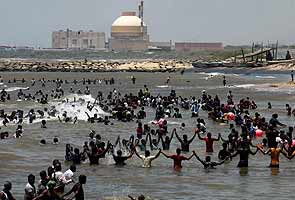 Chennai:
Around 2000 anti-Nuclear activists were arrested as they tried to lay siege outside the Tamil Nadu assembly demanding the closure of the plant.
The nuclear fuel has already been loaded in the plant which is awaiting approval from the Atomic Energy Regulatory Board (AERB) for commissioning.
The activists have decided to step up pressure even as the Supreme Court is hearing a petition challenging the approval given to the plant based on the fact that the safety recommendations made by the government-appointed task force have not been complied with.
Activists have cited the Fukushima disaster in Japan, triggered by a tsunami last year, to draw parallels about the dangers of a nuclear plant and say it is unsafe and would threaten their livelihood. However, two government-appointed committees have said the plant is safe.
Earlier this month, as part of their protests, thousands of villagers and SP Udhayakumar-led People's Movement Against Nuclear Energy (PMANE) had surrounded the area around the Kudankulam plant from about 500 metres in the sea and shouted slogans demanding the closure of the plant. They also led a jal satyagraha last month.
The Pattali Makkal Katchi (PMK) has extended its support to today's protest. "Activists of People's Movement Against Nuclear Energy (PMANE) have planned to siege the Assembly tomorrow (Monday) insisting their demand. PMK cadres would take part in the protest," PMK founder leader S Ramadoss said in a statement yesterday.
MDMK leader Vaiko in a statement alleged that police were arresting several people under the pretext of preventive detention to stop them from taking part in the protest today.
Last month, a protest that lasted several days ended in police action on villages around the nuclear plant, where several people were arrested. The cops were indicted by an independent commission of using excess force at that time. Police had used tear gas and lathicharge to control the protesters, who had threatened to storm the plant from the sea.
(With inputs from PTI)