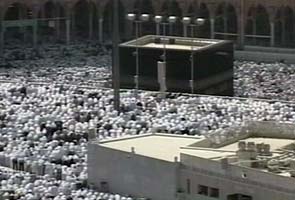 Thiruvananthapuram:
A meeting of Muslim religious organisations on Thursday opined that they were not opposed to doing away with the Haj subsidy in a phased manner.
The meeting, convened to elicit the views of Muslim outfits in the back ground of the recent Supreme Court interim order to the Centre to phase out Haj subsidy, felt that Haj subsidy existed due to historic reasons.
It was due to the "exorbitant" ticket fare charged by Air India, which has monopolised the Haj service, the subsidy was being given, Industries Minister and in-charge of Wakf Affairs, P K Kuhalikutty told reporters after the meeting.
The organisations agreed with phasing out subsidy, but felt that scrapping the subsidy in the present circumstances would deprive many persons from performing Haj pilgrimage, Kuhalikutty said.
"If the ticket charge for Haj travel is reduced by Air India, there is no need for subsidy," he said.
On Kerala's request for increasing the Haj quota, he said the quota for each state should be determined on the basis of number of applicants for travelling to Mecca to perform the pilgrimage.
The meeting also wanted the Centre to have a control on the private groups operating Haj pilgrimage, he said.
Kerala had last month asked the External Affairs Ministry to consider increasing this year's Haj quota by at least 10,000 pilgrims if it had difficulty to changing the norms suddenly.
Under the existing norm of deciding each state's quota on the basis of population only a fraction of the total applicants from Kerala would be able to perform the pilgrimage said.