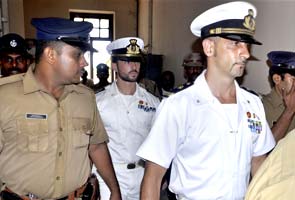 New Delhi:
The Supreme Court has expressed its extreme displeasure over the compromise struck between the families of the two Kerala fishermen who were shot at sea by Italian marines in February. The out-0f-court agreement saw the families of the fishermen agreeing to drop all charges against the marines in exchange for one crore each. The government of Kerala has decided to also challenge this settlement.
The Supreme Court said today,"It pains us the manner in which the Indian legal process is sought to be defeated."
The shooting has turned into a major stress-test for diplomatic relations between India and Italy, which wants the marines who are in jail in Kerala to be released and tried at home. The Italian government has said it will not offer any guarantee that the other crew members and marines who were on board the Italian tanker will appear as witnesses in the future. So the Supreme Court has said it cannot agree to a request to release the ship from government custody so that it can return to Italy.
Last week, the families of the fishermen withdrew their court case against the marines with an out-of-court settlement that entitled them to a crore each. The compromise was sanctioned by a Lok Adalat or people's court with the Kerala High Court's sanction. The compromise meant that the families of the fishermen will no longer pursue any civil suit against the marines, who will however be tried for murder separately.
In February, marines on board the Italian tanker Enrica Lexie fired warning shots at a fishing boat which they thought had Somalian pirates on board. When the boat did not retreat, they fired at the men on board and two fishermen were killed. The shooting provoked outrage among the large fishing community in Kochi. Italy said that the shooting took place in international water, a claim that India refutes.