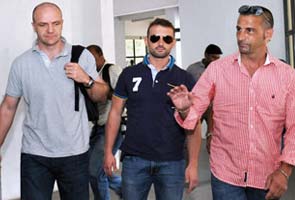 Kochi:
The Kerala High Court will decide on Thursday if the two Italian Marines charged with the killing of two Indian fishermen off the coast of Kerala in February can be allowed to return home to Italy for Christmas.
The Marines are currently out on bail, which has been strongly opposed by the state government, but restrained from leaving Kochi.
The state government has said that the Marines' bail should not be relaxed as there is no guarantee that once they reach Italy, they will return after Christmas to stand trial in India.
However, the Italian foreign affairs department has said it would ensure that the Marines are brought back to Kochi after Christmas.
The court will announce its verdict on this issue on Thursday.
The two Marines submitted a petition last week to be allowed to go home for Christmas. Latorre Massimillano and Salvatore Girone, who were granted bail on May 30, have sought a relaxation in their bail conditions that specify that that they have to submit their travel documents and not leave the Kochi police commissioner's jurisdiction.
Massimillano and Girone, who are staying in a hotel in Kochi, were allegedly involved in the killing of two Indian fishermen, Ajesh Binki and Gelastine on February 15.
The Marines mistook the fishermen as pirates and fired at them off the Alappuzha coast. The Marines were deployed as the security crew aboard the Italian cargo vessel Enrica Lexie.