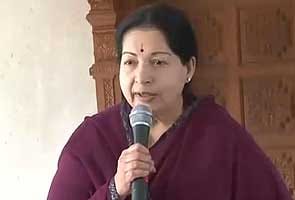 Chennai:
Tamil Nadu Chief Minister J Jayalalithaa today said she would file defamation charges against her political rival and DMK chief M Karunanidhi for making what she called "wild" and "fictitious" allegations against her while commenting on her government's move to ban actor Kamal Haasan's film Vishwaroopam.
"Some have said that I have interests in a TV channel. The channel is Jaya TV, it supports the AIADMK but I have no shares and no control over it...legal action will be taken against such people, newspapers, channels making irresponsible comments," Ms Jayalalithaa said.
Mr Karunanidhi had cited reports suggesting that a TV channel close to AIADMK wanted to buy the film but the producers had refused saying they had spent over Rs 100 crore.
Ms Jayalalithaa also accused Mr Karunanidhi of "coming out with a wild, fictitious story that I wrote a letter to MGR complaining about Kamal Haasan... this is ridiculous".
Mr Karunanidhi, while criticising the AIADMK chief for banning the film, had also hinted that the move was political. He referred to a function held recently at which Kamal Haasan had suggested that a veshti or dhoti clad Tamilian should become Prime Minister, apparently referring to Finance Minister P Chidambaram's suitability for the top job.
Mr Karunanidhi was present at the function and had made a dig at Ms Jayalalithaa. She hit back today, also insisting that she had no axe to grind with Kamal Haasan.
"Mr Kamal Haasan doesn't select the Prime Minister...he has the freedom to air political views and if he wants a veshti clad politician as the PM then that is his opinion," Ms Jayalalithaa said.
At her press conference today, the Chief Minister defended her move to ban the film, saying that she feared communal tension after some Muslim groups objected to it and that her first priority was maintaining law and order in the state.