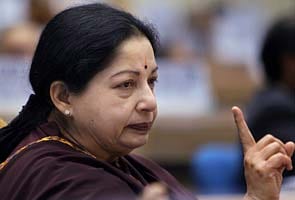 Chennai:
In a stern warning to Pattali Makkal Katchi or PMK, whose party leader S Ramadoss' recent arrest triggered violence in the state, Tamil Nadu Chief Minister J Jayalalithaa today said any political party that harmed law and order and public peace would be banned.
Slamming PMK for the violence, she told the state Assembly that steps would be taken to claim damages from it for the losses caused to public and private property, which she said, were running into several hundred crores of rupees.
PMK workers had allegedly damaged 850 vehicles, including government buses, she said.
"PMK men who were involved in illegal activities initially set on fire vehicles after making the passengers get down. Later, like terrorist organisations they hurled petrol bombs on moving vehicles, causing panic among passengers," she said replying to a special call attention motion on the violence in several parts of state since Mr Ramadoss' arrest on April 30.
Making it clear that her government will not tolerate law and order issues, Ms Jayalalithaa said, "This government will not hesitate to ban any (political) party that is involved in violence with the motive of affecting public peace and law and order and damage public property. It (government) will certainly take action".
Three persons had been killed in various violent incidents of torching vehicles and stone pelting, she said.
Making a detailed statement, she listed out the damage caused to life and property during the violence allegedly involving PMK men including damaging two bridges using explosives and felling and torching of over 150 trees.
She said the violent spree had resulted in traffic, especially bus services, coming to a halt in many parts of the state including on national and state highways causing much inconvenience to public.
Mr Ramadoss, who has been released from prison last week, had flayed the Jayalalithaa Government for arresting him and accused it of having clamped an 'unannounced emergency' against his party and Vanniayar Sangam, a community outfit and parent body of PMK.
Mr Ramadoss was arrested on April 30 for allegedly defying prohibitory orders in Villupuram and attempting to stage a protest over the recent Marakkanam violence allegedly targeting Dalits, for which his party was blamed.