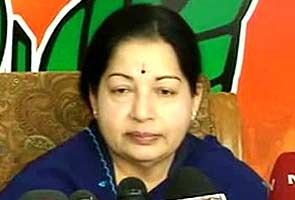 Chennai:
Mounting pressure on Centre, Tamil Nadu Chief Minister Jayalalithaa today insisted that the final order of the Cauvery Tribunal be notified considering the withering crops in the state even as she expressed doubts over DMK's intentions on the issue.
Recalling the recent meeting of DMK MPs with Prime Minister Manmohan Singh at the behest of party chief M Karunanidhi, she expressed doubts if they really took up with him the issue of gazette notification of the final award of the Cauvery tribunal as mentioned by the DMK patriarch.
In a statement in Chennai, she indicated that the DMK government in 2007 did not adopt proper steps to get the final order notified even as her party had made a strong pitch for it, besides moving the Supreme Court against some provisions, though the Karunanidhi government approached the Tribunal once again, but unsuccessfully.
However, she had not only written to the Prime Minister after coming to power last year urging that the order be notified, but had also taken up with him the matter in person.
She recalled her government had moved the court early this year and following this Centre gave an undertaking that the award will be notified by December end.
Following a delay, she had twice written to the Prime Minister, she said, adding, in the meantime Mr Karunanidhi had asked his partymen to make a representation with Manmohan Singh.
"If the DMK MPs had indeed sought notifying the order, it must have been given in writing and Karunanidhi should have released that to the media. But (he) has not released it so far. This makes it clear there was no written representation," she said.
Ms Jayalalithaa indicated that despite having been a part of the ruling UPA coalition and previously ruling the state till last year, DMK MPs had not met Manmohan Singh on this matter.
"With Karunanidhi, whose party has been in power in Centre and state for four years not insisting his MPs to meet the Prime Minister all the time, and the fact that AIADMK MPs have not been allotted time with the Prime Minister to discuss the issue.... seeing this now there is a strong suspicion in the minds of people if the DMK MPs had orally demanded that the final order should not be notified," she said.
Taking a dig at Mr Karunanidhi's practice of writing letters to the Prime Minister or issuing statements on various issues, she said he had, however, been silent on the controversy surrounding her walkout of the National Development Council meeting in New Delhi on Thursday where she had alleged she was humiliated.
She once again demanded that the Centre, considering the welfare of the state's farmers and taking into account the undertaking given in the apex court, notify the final order and constitute the Cauvery Management Board.