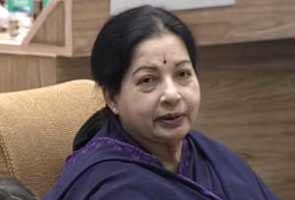 Chennai:
Tamil Nadu Chief Minister and AIADMK chief Jayalalithaa on Thursday joined hands with her Odisha counterpart Naveen Patnaik in backing former Lok Sabha Speaker PA Sangma for the President's post.
After "due consideration" and consultations within the AIADMK as well as with Mr Patnaik, the AIADMK has decided to support the candidature of Mr Sangma for the highest office, she said in a statement here.
Recalling Mr Sangma's May 15 meeting with her, she said he "not only belongs to a tribal community but is also eminently qualified to be the President of our great nation."
"During the past 60 years of the republic of India, while eminent personalities belonging to various communities and diverse walks of life have graced the office of the Rashtrapati, no one belonging to a tribal community has had the opportunity so far," she said.
As such, the AIADMK "takes pride" in supporting the candidature of Sangma, an NCP leader, she added. Her statement comes hours after Mr Patnaik announced in Bhubaneswar the BJD's support to the 65-year-old tribal leader from the northeastern state of Meghalaya for the post.
Ms Jayalalithaa and Mr Patnaik are the two leaders from the regional parties to have come out with their choice for the Presidency even as Congress and BJP are keeping their cards close to their chest.
Incumbent Pratibha Patil's tenure ends on July 25 and the race for Raisina Hill is expected to pick up pace with the regional leaders officially proposing their candidate.