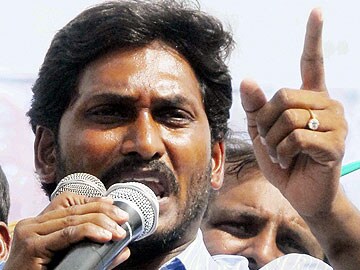 Hyderabad:
YSR Congress President Y S Jagan Mohan Reddy plans to undertake a state wide march from November 28 in support of "united" Andhra Pradesh, a party leader said in Hyderabad today.
"Our party president will begin the 'Samaikhya Sankaravam' (playing the traditional conch shell for unity) march from Kuppam to Srikakulam and tour all districts in Andhra Pradesh to create public opinion against the authoritarian attitude of the Centre and the misuse of Article 3 to bifurcate the state for political gains," YSR Congress leader N Amarnath Reddy told reporters today.
Incidentally, Kuppam in Chittoor district happens to be the Assembly constituency of Telugu Desam Party (TDP) Chief N Chandrababu Naidu. Andhra Pradesh Chief Minister N Kiran Kumar Reddy is also a native of the Chittoor district.
"The march is necessary to expose the duality of Chief Minister Kiran Kumar Reddy and TDP leader N Chandrababu Naidu who have been serving the interests of Congress high command at the cost of the self-respect of the Telugu people," Amarnath Reddy said.
Jagan Mohan Reddy has already met top leaders of the CPI, the CPI(M), BJP President Rajnath Singh and Trinamool Congress Chief Mamata Banerjee to muster support for a "united" Andhra Pradesh.