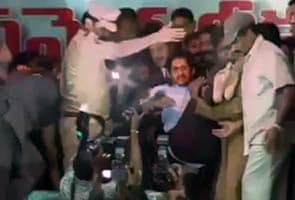 Hyderabad:
Politician Jagan Mohan Reddy, who had been on a hunger strike for five days to protest against the bifurcation of Andhra Pradesh, was forcibly moved to a hospital on Wednesday night and force-fed amid concerns about his health.
(First pics)
A little after 11 pm, the 40-year-old YSR Congress chief was bodily lifted from outside his office, where he was fasting, and taken to the emergency ward of the Nizam's Institute of Medical Sciences (NIMS), where doctors said he had been forcible given fluids.
Before being taken away, Mr Reddy told his supporters that "2014 will be a referendum" on the Centre's decision to carve out the Telangana state.
(Track LIVE updates)
On Wednesday, Jagan's mother, Vijayamma, met BJP president Rajnath Singh in Delhi, triggering speculation of a possible alliance between the two parties, days after Mr Reddy praised Narendra Modi. (
read
)
Congress leader Digvijaya Singh has said that an alliance with Mr Reddy could be considered by his party after the national elections are held. But Mr Reddy has been less kind towards the party that his father belonged to.
Over the weekend, he targeted its president Sonia Gandhi and her son Rahul for the decision to split Andhra Pradesh into two because "someone wanted their son to be Prime Minister."
The Seemandhra region, including coastal Andhra Pradesh and Rayalaseema, remains engulfed in a severe power crisis with 30,000 power sector employees staying firm on their indefinite strike after three rounds of talks with the state government.
A shortfall of over 4,000 MW in power production has led to power cuts that have crippled hospitals, trains and mobile phone services.
Power sector unions will meet tomorrow to decide on whether to end their protest. The group of ministers assigned to handle the bifurcation of Andhra Pradesh will also meet tomorrow in Delhi.