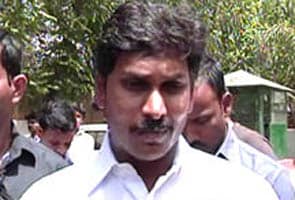 Hyderabad:
YSR Congress chief Jagan Mohan Reddy, who has been on an indefinite hunger strike against the bifurcation of Andhra Pradesh, was shifted from jail to a government hospital as his health deteriorated late on Thursday night.
Jagan Reddy, who has been on a fast for five days, had reportedly refused to take glucose or IV fluids.
The 40-year-old was seen in a red t-shirt as he was taken out of a bullet-proof car into Hyderabad's Osmania General hospital, a little before midnight.
"A health check-up has been done and Jagan's glucose level is decreasing while blood pressure and pulse rate are normal," a senior jail official said.
Jagan began his fast after his mother, a YSR Congress president YS Vijayamma, was forced to end her indefinite fast and taken to hospital.
The YSR Congress has been protesting against the creation of a separate Telangana state announced last month by the ruling Congress.
Jagan's mother accompanied him from the jail to the hospital, where several party leaders and a large number of Jagan's supporters had gathered.
Jagan has been in the Chanchalguda Central Prison since May last year after his arrest by the CBI on corruption charges.