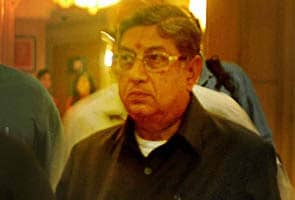 Hyderabad:
N Srinivasan, who has stepped aside as the chief of India's cricket board, has been named in one of three fresh chargesheets filed by the CBI in the Jaganmohan Reddy disproportionate assets case today. The chargesheets have been filed against three companies - India Cements, which is promoted by Mr Srinivasan, Penna Cements and Bharathi Cements.
Counsel for Jagan, Ashok Reddy, said the CBI had informed the court that the final three chargesheets in the case would be filed over the next two to three days. That should come as music to the ears of Jagan and his supporters as the top court had said in May this year that after the final chargesheet in the case is filed, Jagan can apply for bail.
The investigation agency alleges that India Cements invested up to Rs 140 crore in Jagan's companies as quid pro quo for water allotted to their plants in Nalgonda and at Tandur in Ranga Reddy district when his father YSR Reddy was the chief minister of Andhra Pradesh.
India Cements is already listed as an accused in a First Information Report filed in 2011 and Mr Srinivasan has been interrogated twice by the CBI in this case.
The agency has similarly alleged that Penna Cements, promoted by Pratap Reddy, invested Rs 68 crores in Jagathi Publications and Carmel Asia, both owned by Jagan, as a quid pro quo for over 1500 acres of land allotted preferentially.
The third company charged today, Bharati Cements, has now become Raghuram Cements and was owned by Jagan, is said to have been allotted land in excess of what was allowed according to law. Jagan heads the YSR Congress party, which he formed when he split from the Congress after his father died in a helicopter crash four years ago.
Jagan has been in jail for the last 15 months. His party alleges that he is the target of political revenge by the Congress, which it alleges, is afraid of Jagan's popularity.