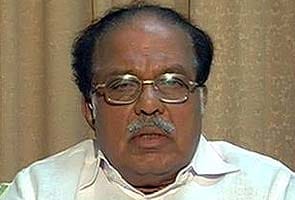 Thiruvananthapuram:
Amid a clamour for his resignation as Deputy Chairman of the Rajya Sabha, Congress leader PJ Kurien has written a letter to his party chief Sonia Gandhi and his boss in the Upper House, Hamid Ansari, countering allegations of rape.
Mr Kurien has reportedly told Mr Ansari, who is the Vice-President of the country, that the charges against him are a political conspiracy.
Mr Kurien, who is 72, has been accused by a gang-rape survivor of being among the 42 men who she says assaulted her in 1996, when she was just 16. The woman, now 33, belongs to Suryanelli in Kerala.
The Bharatiya Janata Party (BJP) has demanded Mr Kurien's resignation as the Deputy Chairman of the Rajya Sabha, saying he should quit on moral grounds. "New revelations everyday in the Suryanelli rape case has made PJ Kurien's position as Deputy Chairperson of Rajya Sabha untenable. BJP, after consulting its state unit, demands that on moral grounds he should quit office till he is absolved of the charges," BJP spokesperson Prakash Javadekar said today.
Mr Kurien was exonerated by the Supreme Court in 2007. He was also not among 35 men tried of the rape by the Kerala High Court in 2005. Of that group, only one man - a lawyer named Dharmarajan was convicted, after which he disappeared.
Yesterday, in an interview to regional TV channel
Mathrabhumi
, the lawyer said that he had driven Mr Kurien to the guest-house where the woman says he raped her. Dharmarajan said the local police had earlier pressured him not to testify against the Congressman.
The gang-rape survivor says that Mr Kurien's political influence helped him to avoid a thorough investigation by the police.
At the end of last month, the Supreme Court set aside the Kerala High Court's decision of 2005, and asked for a re-trial of the Suryanelli rape case, as it's known. The woman and Mr Kurien's political opponents have since demanded that he be removed as Deputy chairman of the Rajya Sabha, and probed for his alleged links to the gang-rape.