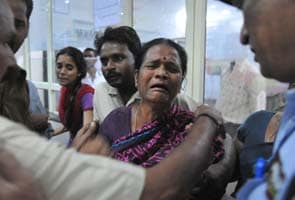 Hyderabad:
The police are having a tough time controlling crowds and sanitising the site of the two blasts that ripped through Hyderabad's Dilsukhnagar area this evening. There are fears that important evidence could be lost as politicians gather there to address the press and angry locals raise slogans against them.
The police has resorted to mild lathicharges twice, but that has failed to disperse people. Over two hours after the blasts that killed at least 14 people and injured nearly 80, the site was still crowded with people.
Chief Minister Kiran Kumar Reddy was heckled and forced to leave the site minutes after he arrived.
The area is a crowded one; it houses two movie theatres, a college and many shops and is near a busy fruit and vegetable market. The blasts happened a little after 7 pm, which is rush hour with people returning from work.
Teams from the local units of the National Security Guard and the National Intelligence Agency are also at the site of the explosions to conduct post blast investigations.
Central teams of these premier agencies have also been rushed to Hyderabad.