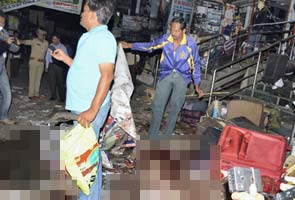 Hyderabad:
Condemning the twin bomb blasts at Dilsukhnagar in Hyderabad this evening, city's Mayor Md Majid Hussain said it was an "act of cowardice".
"Whoever has done this...it is a cowardly act. I strongly condemn it," he told reporters after visiting the scene of the blasts in which at least 11 people were killed.
The Mayor said it was time for everyone to stand united and fight such cowardly acts. "This is a moment of deep grief and I extend my sympathy to the bereaved families," he added.
Meanwhile, some locals who were present at the scene raised slogans against the Mayor and his party Majlis-e-Ittehadul Muslimeen (MIM).
BJP state president G Kishan Reddy, who reached the spot later, said communal harmony should prevail.
"Our immediate concern is to see that the injured persons get better treatment. We want communal harmony to prevail," Mr Kishan said.