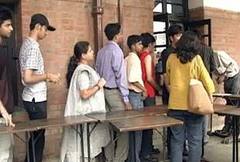 New Delhi:
The Supreme Court has come to the rescue of general category students in Tamil Nadu and asked the state to create additional seats in educational institutions, particularly those in medicine.
This notice will immediately benefit 24 medical and engineering students with 99 per cent marks, who couldn't get admission anywhere in the state due to the 69 per cent quota. The number of students who could eventually benefit could be much higher.
Tamil Nadu has 69 per cent reservation in education and government jobs for the backward classes, most backward classes and ST/SCs, passed by the Tamil Nadu assembly as an Act. This is much higher than the 49.5 per cent for SC/STs and OBCs in other parts of the country. The Supreme Court has put a ceiling of 50 per cent for reservations. Tamil Nadu's quota has been in place since 1994.
The 69 per cent quota was challenged in Supreme Court for its constitutional validity. The court had earlier asked the state government to re-examine the issue through a Backward Classes Commission if it wanted to breach the 50 per cent ceiling, based on the court's guidelines regarding local conditions. The state reverted that it will continue with this quota since 1991 Census data showed the population of backward classes and SC/STs in the state was close to 88 per cent.
This has now been challenged in the Supreme court, following which it issued a notice to the state government, telling to increase the number of seats.