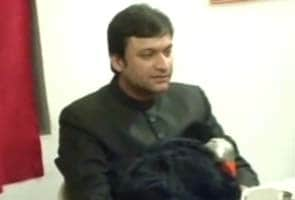 Hyderabad:
Controversial Andhra Pradesh politician Akbaruddin Owaisi, who was booked for allegedly making inflammatory speeches in the state's Adilabad and Nizamabad districts, got bail in both cases on Friday.
Mr Owaisi, a legislator of the All India Majlis-e-Ittehad-ul Muslimeen, will leave jail on Saturday. He has been in prison for over five weeks.
A sessions court in Adilabad granted conditional bail to Mr Owaisi but barred him from entering Nirmal town, where he had allegedly made one of the speeches, or joining public meetings. He was asked to surrender his passport.
Mr Owaisi had on Thursday appealed for bail from the Adilabad court on health grounds and saying that the police had completed the investigation.
In a separate case, a magisterial court in Nizamabad town allowed Mr Owaisi bail on the condition that he should cooperate with the investigators.
Mr Owaisi was booked for allegedly using provocative language against a community at public meetings in Adilabad and Nizamabad towns in December last year. He was arrested on January 8 and faces charges of sedition and waging war against the nation.