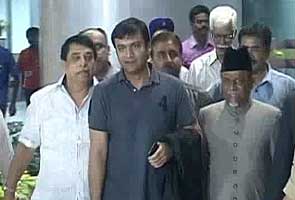 Hyderabad:
Akbaruddin Owaisi, the politician whose hate speeches have provoked a series of court cases, returned to Hyderabad from London early on Monday, but will not appear before the police today.
Mr Owaisi, a state legislator from the Majlis-e-Ittehadul Muslimeen (MIM), has asked for permission to meet the police after four days. His lawyer said Mr Owaisi has asked for exemption on medical grounds.
The police has, however, said that they will get Mr Owaisi examined by doctors before taking a decision on his plea.
Mr Owaisi, whose brother Asaduddin Owaisi is a Member of Parliament, arrived in Hyderabad at around 3 am to a warm welcome by MIM leaders and hundreds of supporters. He later drove to his house in the Banjara Hills area of the city.
He was expected to appear before the police in Nirmal town in Adilabad district, about 200 km from Hyderabad, to explain an inflammatory speech that he allegedly delivered there on December 24. It has gone viral, recording more than 80,000 views on YouTube. The police has charged him with waging war against the state and promoting communal hatred.
Mr Owaisi faces several court cases over that speech and another one made on December 8 in Nizamabad.
The BJP has called for a shutdown in Nirmal, where police mobilised additional forces to maintain peace.
(With inputs from IANS)