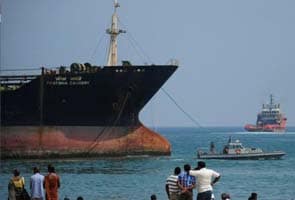 Chennai:
Six months after it ran aground near Chennai during Cyclone Nilam drowning six sailors, oil tanker Pratibha Cauvery, has been sold for Rs 16 crore.
The Madras High Court had on April 18 ordered the sale of the ship through tender, rejecting the request for private sale.
The High Court has recently confirmed the sale to the successful bidder Baltanas Shipping Limited in Charlestown, Nevis.
Subsequent to the sale, Justice R Subbiah has ordered the release of the vessel from the Chennai Port Trust.
The ship was seized and kept in the outer anchorage of the Chennai Port Trust on the order of the High Court, after a relative of one of the deceased sailors filed a petition seeking compensation.
The vessel ran aground off Elliots Beach in the city when cyclone 'Nilam' hit the coast on October 31 last year.
Mumbai-based Pratibha Shipping Company Limited, which had initially deposited Rs 30 lakh, was directed by the court in December last year to pay Rs 87.45 lakh as compensation to legal heirs of the six sailors.
During the course of trial, parents of one of the sailors allegedly committed suicide, following the delay in receiving the compensation.
As for the 17 crew members, who survived the October 31 incident and have filed petitions seeking payment of salary arrears, Justice N Paul Vasanthakumar had in December last directed the company to calculate the admitted arrears of salary payable to them till October-end and pay it in four weeks.