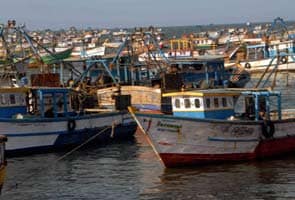 Chennai:
Against the backdrop of the recent attacks on Tamil Nadu fishermen allegedly by Sri Lankan Navy, GPS equipment is being fitted on boats to help them in navigation.
"Our fishermen, sometimes, go into their (Sri Lankan) areas. They do not know that they have crossed international boundaries. Therefore, GPS devices are being fitted to fishing boats as part of an ongoing pilot project," Minister of State for Defence Jitendra Singh said on Tuesday.
He was replying to a query on attacks on Tamil Nadu fishermen allegedly by Sri Lankan Navy.
Commissioning an in-shore patrol vessel ICGS Rajkamal for the Coast Guard, he highlighted the need for educating fishermen about the geographics of the area.
He described the international boundaries between India and Sri Lanka as "very very complex."So what happens is our fishermen go into their areas. So such problems can only be dealt with bilaterally."
A joint group between Indian and Sri Lankan governments with senior officers of the Coast Guard, police and diplomatic channels has been formed and meet every six months, the minister said.
"We need to strengthen dialogues, and strengthen such meetings and such communication between both countries to solve the problems," he said.
Replying to a query on China, he said, "The rise of any military is no threat to us. China is a partner, a global force. We respect that. We have very very good relations with the Chinese and we want to keep it that way. We want to have good relations with our neighbours."
Referring to the fact that over 85 per cent of the newly commissioned ICGS Rajkamal was indigenised, Singh said the Defence Ministry and government were working towards indigenisation.
"We are not dependent on foreign players and we should be capable of developing our own aircraft, ships, equipment, right from arms...," he said.
He said 10 ships would be delivered by Garden Reach, Kolkata and another similar high-speed 14 ships were in the process of procurement.
"Very soon, this sector, mainly Tamil Nadu and Chennai area, will be getting the surveillance radar system which is a giant leap forward to coastal security," the minister said.
On cyber-attacks on Indian sites, he said the government was well aware of the prevailing situation in the cyber world.
"Ministry of Home Affairs, Defence and various other ministries are working together at various platforms in dealing with this threat," he said.
He also said the first phase of the Coastal Surveillance Network was "nearing completion."
Vice Admiral M P Muralidharan, Director General, Coast Guard, said for enhancing surveillance capabilities and effective maritime domain awareness, a Coastal Surveillance Network along the coastline is being established.
"The aim of setting up of this network is to create a real-time coastal surveillance system which can be monitored from remote locations. Forty-six such stations are being set up under Phase I and 38 stations are planned under Phase II of the scheme."