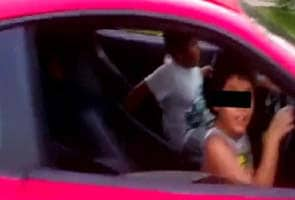 Thrissur:
The Thrissur-based businessman who filmed his nine-year-old son driving his Ferrari, was arrested today and immediately granted bail on a surety of Rs 5000. The Ferrari has been returned to businessman Mohammed Nisham on the condition that he will submit certain documents to the police and court. He was booked under Juvenile Justice Act for endangering the life of his son and others. Defending himself, Mr Nisham said "'he had no idea the issue would snowball like that."

Filmed by his wife and posted on YouTube by Mr Nisham, the boy's video had gone viral last week. It showed at least one other child in the car with the boy in the drivers seat. The video created a huge furore, with several criticizing the act as a case of "irresponsible parenting". But the Nishams were unperturbed, with the boy's mother telling NDTV then that she was "proud" of her "talented" son's "achievement" at this age.
(Watch: video of the nine-year-old driving a Ferrari)

The Nishams also said they allowed their son to drive the car because it was his ninth birthday and he had been insisting on it for months.
They said he had driven several other cars owned by them, including a Lamborghini and Bentley.