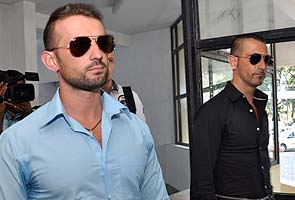 Brussels:
The European Union on Friday welcomed the decision of the Kerala High Court to allow two Italian marines held in India for killing two fishermen to return home for two weeks over Christmas pending settlement on their case.
The marines had shot dead the fishermen on February 15, allegedly taking them for pirates off the coast of Kerala.
Michael Mann, the spokesman for EU Foreign Policy chief Catherine Ashton, said Ashton has been closely involved in this case in high level contacts with Indian authorities.
"In this regard, she has also expressed her condolences to the families of the two fishermen that were killed in this unfortunate incident," he said in a statement.
The EU remains engaged in the case, awaiting the judgement of the Indian Supreme Court regarding the UN Convention on the Law of the Sea, which is an important pillar of international law, the EuAsiaNews quoted the statement as saying.
The spokesman said the EU is strongly committed to the fight against piracy globally in full respect for international law and will continue to advocate international measures that are coherent and mutually reinforcing.