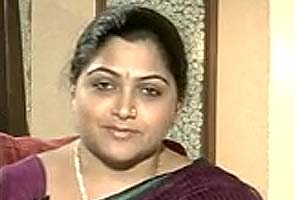 Chennai:
The DMK has said that it will identify and punish party workers who threw shoes at actor-politician Khushbu as she emerged from a hotel in Trichy; another mob had attacked her home in Chennai yesterday.
Describing the attacks as "barbaric," the party said in a statement that workers "had unsuccessfully conspired" to force her exit from the DMK and create a rift within senior leaders -a reference to the rival camps of president MK Karunanidhi's two sons.
The attacks on Khushbu -the party said her children had been threatened but did not elaborate -were provoked by her reported comments on how the party will pick its next chief.
She allegedly told a Tamil magazine recently that after current president M Karunanidhi steps down, his son, MK Stalin, will be promoted to the top post only after the DMK's general council approves of the change. Those remarks allegedly aggravated Mr Stalin's supporters.
Khushbu tweeted last night that she is safe. "Dear friends, I am doing well. A misfortune has taken place and wouldn't want to comment until and unless the investigations are done. Thank you," she posted.
Mr Stalin and his older brother, MK Alagiri, are both competing to be DMK president. Their father suggested last month at a party function that he has picked Mr Stalin as his successor, prompting a terse rebuttal from his other son, who said, "The DMK is not a
mutt
(religious sect) where successors are appointed."