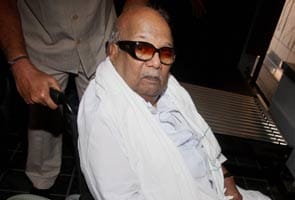 Chennai:
DMK today unanimously authorised party President M Karunanidhi and General Secretary K Anbazhagan to decide on the allies for the Lok Sabha elections in 2014.
A resolution to this effect was adopted at a meeting today, billed as a preparatory exercise for the polls. The 2014 election is crucial for the DMK which was ousted from power by the AIADMK in the 2011 assembly polls.
DMK had contested the previous Lok Sabha and assembly elections in alliance with the Congress but left the UPA in March this year over Sri Lankan Tamils issue, snapping their nine-year old ties.
"The district secretaries spoke on how the party should approach the Lok Sabha polls," said another resolution passed at the meeting in which DMK South Zone Organising Secretary and Mr Karunanidhi's elder son MK Alagiri was conspicuous by his absence.
Besides the 35 district secretaries, the meeting chaired by Mr Karunanidhi was attended by party treasurer and his younger son MK Stalin, daughter Kanimozhi, TKS Elangovan, TR Baalu and A Raja.
Setting the stage for a fierce electoral battle in the state, which sends 39 members to Lok Sabha, the meeting identified a range of issues to target the AIADMK Government and asked its cadres to take forward "people's problems" by organising protests in their respective areas.
It accused the Jayalalithaa government of non-cooperation in implementing several development projects which were initiated during the previous DMK regime.
On the issue of state fishermen being attacked allegedly by Sri Lankan Navy, it criticised Chief Minister Jayalalilthaa saying whenever such incidents occurred, she thought "her duty is done with a letter to the Prime Minister. The State and Central governments should come forward to protect the fishermen at least from now on," a resolution said.
Accusing the AIADMK of going back on its "commitment" in 2001 and 2004 poll manifestos to implement the controversial Sethusamudram project, the DMK urged the Centre to execute it.