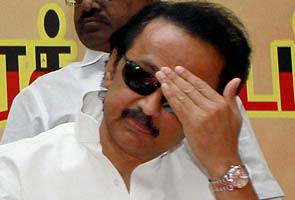 Chennai:
As the government claimed it had no role to play in the CBI raids at DMK leader MK Stalin's house this morning, the politician's father and DMK party chief M Karunanidhi said that his party "is often falsely implicated. It may be or may not be political vendetta."
He said central ministers had explained that they "strongly disapprove" the CBI raids. Finance Minister P Chidambaram today said he was "dismayed" by the raids. The CBI has been asked by the government to explain in a statement stating why it went ahead with the raids. Sources say the raids are now over.
The DMK exited the government on Tuesday. This morning, after the raids, which were in connection with alleged illegal import of cars, Mr Stalin angrily said, "CBI action is political vendetta. You see for yourself. The raids took place just two days after we quit the UPA. We will face it legally."
The DMK withdrew support from the Congress-led UPA on Tuesday, accusing it of failing to take a strong stand against Sri Lanka at the ongoing session of the UN Human Rights Council in Geneva.