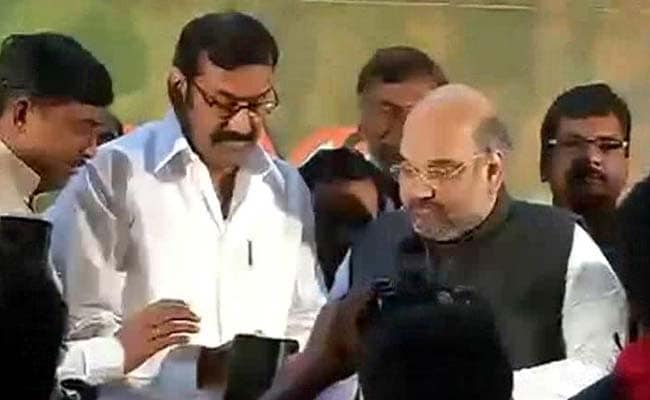 Chennai:
DMK leader and former union minister D Napoleon joined the Bharatiya Janata Party (BJP) in the presence of BJP president Amit Shah in Chennai on Sunday.
Napoleon, 51, had resigned from the DMK Saturday. He was a minister in the Congress-led UPA government.
"The DMK leadership is bad, they tied my hands. They did not let me function as minister," he said.
His former party, meanwhile, said Napoleon has proved he is an opportunist.
Napolean was a known supporter of MK Alagiri, another former central minister and a son of DMK chief M Karunanidhi.
Alagiri was dismissed from the DMK this year for anti-party activities. Napolean was sidelined in the party because of his closeness to Alagiri.
Napoleon entered politics as an assistant to his uncle and DMK leader KN Nehru. In 2001, Napoleon entered the Tamil Nadu assembly from Villivakam constituency.
In 2006, he was defeated in Mylapore constituency in Chennai.
In 2009, Napoleon won the Perambalur Lok Sabha constituency and was made the minister of state for social justice and empowerment in the UPA government.
He defeated his AIADMK rival by around 77,600 votes. Napoleon did not contest in the 2014 general election.
On Saturday, music director Gangai Amaran joined the BJP.