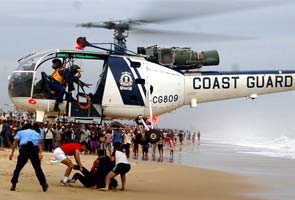 Chennai:
Coast Guard helicopters and boats have launched, what it called, a "massive search and rescue operation" to locate five sailors missing since yesterday after trying to leave a ship stranded off the coast of Chennai, following cyclone Nilam's landfall.
Three more ships and two Dornier aircraft were pulled in for the air-sea coordinated search and to look out of any others ships in distress along the coast of Andhra Pradesh, Tamil Nadu and Puducherry.
Early this morning the Coast Guard rescued 15 sailors trapped on the oil tanker but five are still missing. One sailor died while leaving the ship yesterday.
(See pics)
The crew members of the Pratbiha Cauvery were collected this morning after they spent the night trapped on the ship which had been anchored near the Chennai port but was cut loose during the gales that preceded Cyclone Nilam's landfall last evening. Rescue operations were suspended at dusk on account of bad weather.
On Wednesday afternoon, the captain of the ship had warned the 37 people on board that the ship could sink after it ran aground near Chennai's Marina beach. The Coast Guard says that 21 crew members jumped into a life boat which capsized in the choppy waters. 16 of them reached shore with the help of local fishermen, but one died of drowning.
The Coast Guard has said in a release that the sailors chose to ignore a warning to stay on board the ship and await rescue.
A Coast Guard release said that of the 16 who made it to the shore and were hospitalised, two are critical but stable. The other 14 were stable. They are being treated in private hospital in Chennai.
Dr Meera, Medical Superintendent, Fortis Malar Hospital, Chennai says, "What they say is they were on the ship for over a month, they ran out of fuel and food and after it was grounded the Captain told them to move out using the life boat."
Shipping authorities have reported that the "Pratibha Cauvery" is not badly damaged and that a plan to refloat it is being drawn up.