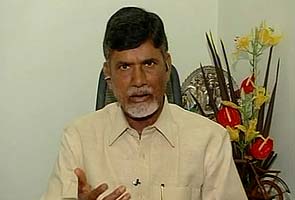 Hyderabad:
Telugu Desam Party (TDP) president N Chandrababu Naidu today completed 200 days of his ongoing "Vastunna Meekosam" (I am coming for you) foot march as he reached Makavarapalem village under Narsipatnam Assembly constituency in Visakhapatnam district.
In the process, the former Chief Minister crossed the 2750-km milestone, having started the walkathon on October 2 last year.
Politically, the foot march is very significant for Chandrababu as well as Telugu Desam Party as they are in desperate need to reinvent themselves in the changed political circumstances in the state.
Going by the response the yatra generated in 16 districts of the state, Chandrababu seemed to have succeeded in re-establishing his lost touch with the people.
By announcing different packages for every particular section of the society, the former CM sought to win over those sections that once formed a strong vote bank for the TDP.
Through the foot march, Chandrababu also sought to boost the morale of TDP rank and file, which has certainly hit a low being in opposition for nine years now.
He also utilised the opportunity to build alternative leadership in many constituencies where sitting legislators and some other senior leaders defected to the YSR Congress (in coastal Andhra and Rayalaseema) and the Telangana Rashtra Samiti (in Telangana).
TDP leaders believe the yatra helped in creating a "silent wave" in favour of the party despite several odds (the Jagan and Telangana factors).
"Our cadre base is still strong across the regions and we are able to consolidate our position among SCs and BCs. We could also impress other sections like employees," TDP vice-president Kambhampati Ramamohan Rao pointed out.
"We are grateful to people for making the yatra a grand success," he added.
The long walkathon, of course, has taken a toll on the 63-year-old leader's physical health as Chandrababu had developed arthritis.
"The body pain that I am enduring pales before the sufferings of the people who have been put to numerous hardships in the last nine years of the Congress' rule", has been the TDP supremo's refrain, who incidentally will be celebrating his birthday amidst people in a far-off coastal village tomorrow.
Chandrababu will conclude the foot march in port-city Visakhapatnam on April 27 after probably crossing the 3000-km mark.
A pylon will be unveiled to commemorate the occasion while a massive public meeting is also scheduled to be held there.
He will return to Hyderabad on the 28th and at a subsequent date undertake a bus yatra to cover the remaining six districts in the state.