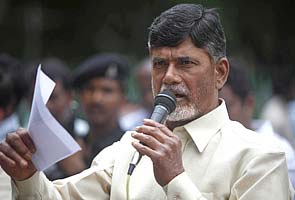 Visakhapatnam:
Telugu Desam Party (TDP) President N Chandrababu Naidu on Friday said that farmers were the top priority of his party.
Launching the campaign for by-election for Payakaraopeta Assembly constituency in the district, Naidu expressed confidence that TDP would capture the seat.
At a public meeting at Adduroad village in the district today, Naidu said TDP lost in 2009 because of "charisma" of Praja Rajayam Party.
Actor-turned-politician Chiranjeevi had now "sold" his party, PRP, to the corrupt Congress, the TDP chief alleged, and said that Chiranjeevi wanted to become the Chief Minister but failed, and therefore merged his party with Congress.
People had also lost faith in Y S Jaganmohan Reddy due to his corruption, Naidu said.
TDP would add the SEZ issue to its manifesto and fight to return acquired lands to farmers, he said.