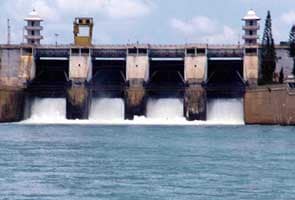 Bangalore:
Karnataka knew it was coming, but the state government is severely disappointed by the final notification of the Cauvery Water Dispute Tribunal award that is meant to be the final word in the sharing of waters of the river between the four south Indian states.
This award gives the lion's share of water, 419 tmc feet, to Tamil Nadu while Karnataka is allotted 270 tmc feet.
Karnataka's politicians still hope that something can be done to change the situation. In a letter to the Prime Minister, Chief Minister Jagadish Shettar said, "...all the three states including the State of Karnataka have filed Civil Appeals against the final order of the CWDT (Cauvery Water Dispute Tribunal)."
While the Karnataka government is unhappy that it only got 270 tmc of water, what troubles it the most is the effect this award will have on Bangalore, which it says is the fastest growing metro city in the country. While assessing the drinking water requirement for Bangalore, the tribunal's order has taken into consideration only partial needs of the city leaving out almost two third of its need. Hence Bangalore city will face a perpetual water shortage, the government says.
Former Prime Minister H D Deve Gowda, who also dealt closely with the Cauvery issue as chief minister, believes the decision to notify the award was political. He told NDTV, "The Union government wants to survive, survive because of the political strength of Tamil Nadu. We will show the path in Gandhian way, not by any unpeaceful method. The Tamil Nadu chief minister and former chief minister - I know how these people have used their political clout to get this unjust tribunal final award. This is for us to fight in a peaceful manner what Mahatma Gandhi taught us."
Mysore and Mandya regions saw protests against the award and there are prohibitory orders in place at the Krishnaraja Sagar or KRS dam. A group tried to protest at the Bangalore International Airport, 70 of them were arrested.