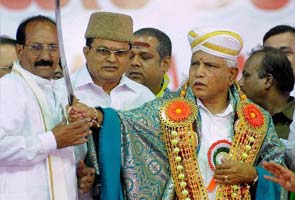 Haveri/Bangalore:
BS Yeddyurppa gave his former party of 40 years, the BJP, notice of his arrival as a strong political rival on Sunday, launching his Karnataka Janata Party to lusty cheers from more than one lakh loyalists, including 13 MLAs of the BJP.
Sources say these MLAs could be issued show cause notices by the party, who attended the former chief minister's rally blatantly ignoring their party, which had instructed them to keep away.
Mr Yeddyurappa has challenged the BJP leadership to take action against the MLAs present at his rally. "Shettar said action will be taken against legislators if they participated in today's rally. The government has no majority now. You are in Chief Minister's chair because of the support of Yeddyurappa. If you have the guts, dissolve the Assembly and seek fresh mandate," Mr Yeddyurappa said.
Though Karnataka Chief Minister Jagadish Shettar has tried to play down the Yeddyurappa threat, state BJP unit chief KS Eshwarappa has counter-challenged Mr Yeddyurappa to try and bring down the government by asking the MLAs loyal to him to resign from the state assembly. The party is clearly rattled by Mr Yeddyurappa's massive show of strength and sources say there is a section of the BJP's top leadership that wants the Karnataka House dissolved and fresh elections sought. Assembly elections are due in Karnataka in next year.
The BJP rules Karnataka with 118 MLAs in a 225-member house. Mr Yeddyurappa claims that he has the support of 50 of them. The ex-chief minister, who recently resigned from the assembly and quit his party alleging ill-treatment, is credited with winning the BJP its first ever southern state in 2007.
His taking over as President of his newly-minted Karnataka Janata Party at Sunday's massive rally at Haveri in north Karnataka was the denouement in a long-drawn drama of threats, behind-the-scene bargaining and public display of strong emotion that followed his having to step down as chief minister in September 2011 because of corruption charges. His party's refusal to reinstate him saw Mr Yeddyurappa finally quit to launch his own party.