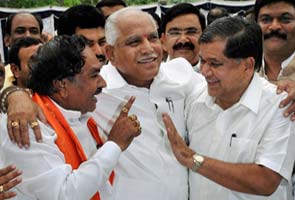 Bangalore:
One of the headlines that emerged from Pranab Mukherjee's huge win in the presidential elections yesterday was BJP-ruled Karnataka giving him 53 per cent of its votes. Newly-elected Chief Minister Jagadish Shettar has some explaining to do and today promised to investigate the cross-voting in his ranks that led to that rather public humiliation of the BJP.
"We will take action. A committee would be formed and appropriate action would be taken," Mr Shettar said. A little later he would have winced as the man who scripted his ascent to the Chief Minister's chair, BS Yeddyurappa, declared, "Pranab Mukherjee is well respected and (I am) happy he is President."
Mr Yeddyurappa, arguably the most powerful BJP man in Karnataka and quite the law unto himself, had said in an interview to NDTV before the presidential elections were held that he believed Mr Mukherjee was a good candidate for President, but that as a loyal party worker he would vote for the BJP's candidate.
(Read)
He compounded the BJP's discomfiture by also saying today, "As a former leader, I requested honourable Sangma jee not to go to the Supreme Court against Pranab Mukherjee. The President of India is an honourable post. It won't look nice. In the interest of the country, he should stop this thinking. That is my humble request." Mr Yeddyurappa was referring to Purno Sangma, the candidate supported by the BJP and who lost to Mr Mukherjee, saying that he would challenge his opponent's win in court.
When votes for Karnataka were counted yesterday it was discovered, much to the unrestrained glee of Mr Mukherjee's poll managers, that he had got 117 votes from the state and the BJP's candidate Purno Sangma only 103. Three BJP votes were found invalid, so Mr Sangma should have got at least 116 clear votes.
Since this was a secret ballot, the party will now have to identify the 13 MLAs who voted for Mr Mukherjee, the Congress-led UPA's candidate, and not Mr Sangma. There are enough disgruntled elements - the party only recently gave in to pressure tactics from the Yeddyurappa camp to make Mr Shettar, a Lingayat leader, the Chief Minister. But that meant angering another powerful community, the Vokkaligas, since the man the party unseated, Sadananda Gowda, belongs to that community.
Then, there are MLAs who fancied their chances as ministers and a disgruntled that they didn't make it. And finally, there is BS Yeddyurappa. He said today that he had no idea about the cross-voting. "I am not aware of all these things. Our president has already told that he will inquire into the matter. Let us see who all have done this mistake," he said.
Mr Yeddyurappa's advice to Mr Sangma today was in reference to the latter saying yesterday that he might challenge Mr Mukherjee's victory in court, by bringing up the office of profit issue again. Team Sangma had challenged Mr Mukherjee's nomination a month ago alleging that he held an office of profit on the day he filed his nomination papers for the presidential elections, as the Chairman of the Kolkata-based Indian Statistical Institute.
Mr Mukherjee had furnished papers to show that he had resigned much before the day he filed nomination and the election officer had cleared his nomination, satisfied that he held no office of profit.