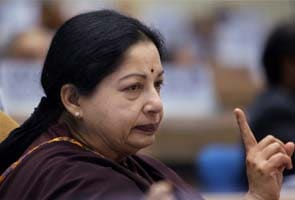 Chennai:
All parties in Tamil Nadu, including the Congress, today asked the Centre to boycott the Commonwealth meet in Colombo next month over Sri Lanka's alleged war crimes against Lankan Tamils and the arrest of fishermen from the state for straying into Lankan waters.
The Jayalalithaa government today moved a resolution in the assembly stating that India should boycott the Commonwealth Heads of Government Meeting in Colombo, which received cross-party backing.
"India should act to suspend Sri Lanka from Commonwealth till Tamils are given equal rights," said the resolution, asking the Centre to convey this to Colombo.
All major parties in the state, including the DMK and Jayalalithaa's ruling AIADMK, have been asking the Centre to take a strong stand against "genocide" of its ethnic Tamils in the war that ended when defence forces vanquished the separatist Tamil Tigers in 2009.
Tension with Colombo peaked over the arrest of more than 100 fishermen, many of them from Tamil Nadu. They face trial for entering Sri Lankan waters.
Sri Lanka's Foreign Minister GL Peiris had recently hand-delivered a personal invitation to Prime Minister Manmohan Singh to attend the Commonwealth meet, and expressed hope that India will be represented "at the highest level" for the summit.
With a string of state polls and the national election due by May, the Prime Minister has to weigh the domestic fallout of a trip to Colombo with Tamil Nadu parties accusing his government of not doing enough to hold Sri Lanka accountable for alleged war crimes and human rights atrocities during the final phase of the island's civil war which ended in May 2009, with the army defeating the rebel Tamil Tigers or LTTE.
In March, the regional powerhouse DMK quit Dr Singh's coalition. Leaders of the Tamil Nadu party said that at a session of the UN on human rights in Geneva, India had failed to indict Sri Lanka of "genocide."
Human rights organisations and sections of the Tamil diaspora across the world have accused the Sri Lankan army of indiscriminately killing over 40,000 unarmed civilians, a charge Colombo has vehemently denied.