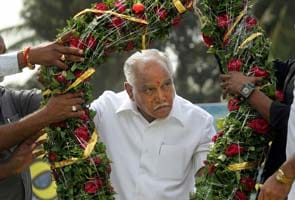 Bangalore:
The BJP in Karnataka has put off the decision of what action to take against its MLAs who came out in open support of BS Yeddyurappa at the launch of his Karnataka Janata Party (KJP) in Haveri on Sunday.
Karnataka BJP president Eshwarappa said in Belgaum that the decision on taking action against those who took part in the KJP rally would be taken in two days. He said the matter has been discussed in the core committee meeting, but the final decision will be taken after consultations with the high command.
Mr Eshwarappa also indicated that a decision would be taken on change of portfolios of ministers, inducting new ministers, and dropping some of them from the Cabinet.
Sources say a showcause notice could be issued to partymen who attended Mr Yeddyurappa's rally during the next meeting of the core committee scheduled for December 15.
Replying to Mr Yeddyurappa's challenge, Mr Eshwarappa said the BJP was not a party that would bend to threats.
Addressing his supporters during the massive rally at the launch of his party, Mr Yeddyurappa had challenged the BJP leadership to take action against the MLAs present at his rally. "Shettar said action will be taken against legislators if they participated in today's rally. The government has no majority now. You are in Chief Minister's chair because of the support of Yeddyurappa. If you have the guts, dissolve the Assembly and seek fresh mandate," Mr Yeddyurappa said.
Mr Yeddyurappa's rally in Haveri in North Karnataka on Sunday was attended by one lakh supporters, including 13 MLAs of the BJP.
His taking over as President of his newly-minted KJP was the denouement in a long-drawn drama of threats, behind-the-scene bargaining and public display of strong emotion that followed his having to step down as chief minister in July 2011 because of corruption charges. His party's refusal to reinstate him saw Mr Yeddyurappa finally quitting the BJP to launch his own party.
He has accused the BJP of betraying its promise to reinstate him in a position of power in the last few months.
The BJP rules Karnataka with 118 MLAs in a 225-member house. Mr Yeddyurappa claims that he has the support of 50 of them. The ex-chief minister, who recently resigned from the assembly and quit his party alleging ill-treatment, is credited with winning the BJP its first ever southern state in 2007.