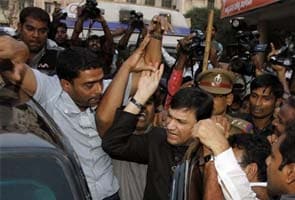 Hyderabad:
Majlis-e-Ittehadul Muslimeen (MIM) leader Akbaruddin Owaisi will spend the next two weeks in Adilabad jail in Andhra Pradesh. His petition seeking transfer to a Hyderabad jail on medical grounds was rejected by a court today. He was sent to judicial custody till January 22 earlier in the day.
A second petition by Mr Owaisi demanding a status of 'special prisoner' was also rejected.
However, his petition seeking to disallow multiple FIRs against him on the ground of delivering hate speeches has been admitted by the Andhra Pradesh High Court.
The MIM legislator was arrested on Tuesday by the Hyderabad police on charges of delivering a hate speech last month.
Mr Owaisi spent the night at the police station in Nirmal town in Andhra Pradesh's Adilabad district. He was presented before the magistrate in the early hours today and sent to Adilabad Jail at the crack of dawn.
Mr Owaisi was brought to the rural police station in Nirmal, about 200 km from Hyderabad, at 10 pm yesterday amid tight security. There was tension near the police station as some legislators staged a protest when they were not allowed to proceed towards it. Some of them had earlier tried to stop the convoy carrying Mr Owaisi but were dispersed by the police.
Prohibitory orders (under Section 144 of the CrPC) are in place in Adilabad and Nizamabad, where the MIM leader is facing another case.
Police officers began questioning Mr Owaisi with regard to the speech delivered by him at a public meeting in the town on December 24. He was accompanied by his younger brother Burhanuddin Owaisi, Editor of Urdu daily 'Etemaad', and his lawyer.
Mr Owaisi was taken into custody on Tuesday after being subjected to a series of medical tests at the government-run Gandhi Hospital in Hyderabad. The legislator underwent 11 tests, and medical reports revealed that he was fit to face investigation.
The legislator, who returned from London early on Monday, faces charges of waging or attempting to wage war against the state, promoting enmity between different groups on grounds of religion, and for deliberate and malicious acts intended to outrage religious feelings.
The 42-year-old heads the MIM in the Andhra Pradesh assembly. Representing Chandrayangutta constituency in the Old City of Hyderabad for a third time, he is the younger brother of MIM chief and MP Asaduddin Owaisi.

(With inputs from IANS)