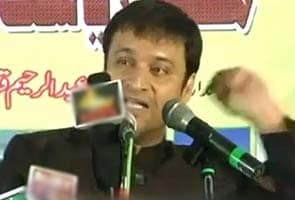 Hyderabad:
It's been a season of hate speeches for Andhra Pradesh politician Akbaruddin Owaisi, who belongs to the MIM or Majlis-e-Ittehadul Muslimeen.
And after months of appearing to get away with it, Mr Owaisi is finally being held accountable. He is reportedly in London.
Two different cases have been filed against him by the police on Wednesday night. The first is based on a speech made in Nizamabad on December 8. The second relates to a speech on December 24 in Adilabad, which has gone viral with thousands of views on YouTube.
A court on Thursday ordered a third case to be filed against the politician on the basis of a complaint by a citizen who said he saw one of Mr Owaisi's speeches on TV.
Another complaint filed by a BJP lawyer accusing Mr Owaisi of attempting to spread communal hatred was heard by a court on Thursday. The next hearing has been fixed for January 7.
The 42-year-old heads the MIM in the Andhra Pradesh Assembly; his older brother, Asaduddin, is a Member of Parliament. He said he did not want to comment on the controversy since it is now being heard in court.
Observers say the MIM has been aggressively asserting its religious identity since the party ended its alliance with the Congress in November.
Over the last few weeks, the government has been criticised for not initiating any action against the leader for his inflammatory speeches. "Who said it is taking long?" retaliated chief minister Kiran Kumar Reddy. "When such statements are made, usually the public prosecutor's opinion is taken and then cases are registered; so that legally it is strong when they go to the court."
The opposition BJP has been demanding criminal action against Mr Owaisi, and says he must be disqualified by the Election Commission from contesting polls in the future.