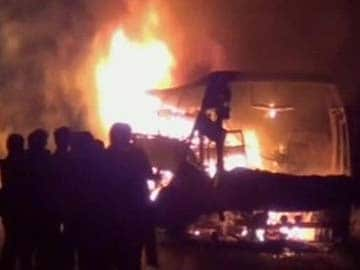 Hyderabad:
At least 44 people died when a bus headed from Bangalore to Hyderabad went up in flames early this morning.
The driver, cleaner, and five passengers managed to escape in the accident that took place at Mahubnagar, 150 km from the IT hub of Hyderabad.
Among those who died in the accident were five engineers working for IBM, Google and other software companies in Bangalore.
The driver has told the police that he was trying to over-take another vehicle when he hit a divider. The fuel tank then exploded, say investigators based on early inquiries.
The bus belonged to Jabbar Travels, a well-known tour operator, with offices in Bangalore, Hyderabad, Mumbai and Pune.
"There were 45 passengers," said Imtiaz Khan, who is a manager with the company. "The driver was not over-worked or new," he said.
The bus had an automatic locking system which made it difficult for the passengers to escape, reports the Press Trust of India.
Most of the bodies were found at the rear end of the bus indicating that passengers had tried to rush to the door, said police sources.

These are the helpline numbers: 9494600100, 08542-245927, 245930, 245932.