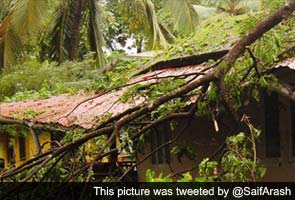 Thiruvananthapuram:
The Kochi airport has been shut down till Tuesday afternoon because of severe water-logging as heavy rain lashes central Kerala, affecting 126 flights and nearly 11,000 passengers.
In the hill district of Idukki, 125 km from Kochi, a tourist bus and several cars have reportedly overturned and many other vehicles are stranded on a 100-metre stretch of the national highway 49, blocked on both sides by landslides. Eleven bodies have been recovered and more casualties are feared.
Rescue operations are under way, but Idukki MLA Roshi Augustine said bad weather is hampering work. All road connections to the Adimali- Nerimangalam road are blocked and the area is cut off from the rest of Kerala. Doctors and ambulances have been rushed nearby hill towns like Munnar.
There has been incessant rain in the Idukki region for weeks now, with very heavy rain reported since the weekend.
Many houses built on the slopes of the hills have been swept away by the flash floods. The Periyar river is flowing very close to the danger mark and the water level is rising in the Idukki and Mullaperiyar reservoirs. Shutters of small dams have been opened.