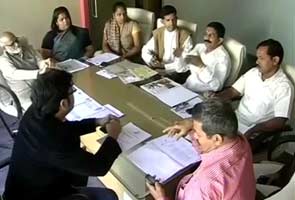 Pune:
Good people stay out of politics and they just criticise the politicians. That has always been a complaint, but in Pune young educated professionals have come together under a banner to contest elections to the Pune Municipal Corporation.
They may not have money or muscle power, but they definitely have a point to prove.
"We realised there is no way we are going to change this system as it is infamously know by staying outside it. It is very important that we get into the system and make the changes," said Siddharth Roy, a mechanical engineer.
"I have been inspired by Anna Hazare. May be we can try and bring about some change. That is why I am here," said Sana Patil, a business graduate.
These candidates are hoping that awareness will push voters into making the right choice and vote for change desperately needed to revive the city's sagging infrastructure.
"The candidate should be well educated. He should have a background of social work and he should be aware of society's problems. He should also have a clean image," said Vivek Velankar, Organiser, Pune Nagrik Sanghatan.
To change a system, be a part of it. It is perhaps with this belief that highly educated professionals and candidates with clean image are trying their luck to bring about the much desired change. But what remains to be seen is will the voter take note of them?