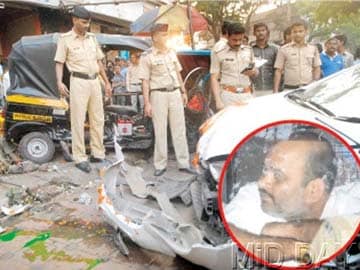 Pune:
A drunk driver reminded Punekars of the terror unleashed by MSRTC driver Sanotsh Mane, as he went berserk behind the wheel and rammed his car into several vehicles on the busy Jangali Maharaj Road yesterday evening.
Initial reports stated five people sustained injuries after they were knocked down by the Hyundai Elantra (MH 12 JC 5918) driven by 38-year-old Mahesh Maruti Sardesai.
Also damaged in the road rage were three two-wheelers, an auto and a roadside stall. The rage ended after the car got stuck into the sugarcane juice stall.
Those injured in the mishap were identified as Abhimanyu Tambe (24), who was on his bike, Ram Gadekar (30), Mahesh Birajdar (22), Mahesh Varvate and a 27-year-old woman.
Officials of the Deccan police station said Sardesai was drunk when the locals handed him over to them.
Survivors' tales
Narrating his ordeal, Tambe said, "I was standing at the Deccan bus stand with my friends after having dinner.
Suddenly, a car knocked me down, and went on to hit the woman. Later, the driver rammed the car into a rickshaw parked at the auto stand, followed by two-wheelers parked on the roadside. He finally dashed into a juice stall."
A student from a film-making institute in the city, Tambe hails from from Satara. He fractured his left arm in the incident.
Nigadi resident Gadekar, whose auto was damaged in the mayhem, said, "I purchased the vehicle just eight days ago on loan. It is my only source of income. It's going to get extremely difficult to make a living as I can't afford repair it."
While Birajdar, an employee at the juice stall, thanked God for saving his life. He said, "The car was at full speed when it hit the stall. Luckily, I jumped away from the kiosk in the nick of time."
Guilty conscience
When the correspondent spoke to Sardesai, after the Deccan police arrested him, he said, "It is my mistake and I committed a crime. Unfortunately, even the brakes failed at the wrong time. I request people for their forgiveness."
Copspeak
Senior Inspector Manohar Joshi of the Deccan police station said, "We have taken the driver into custody and would be sending him for blood test to check for presence of alcohol in his system. He'll be booked under relevant sections of the IPC once we get the report and note down the statements of the injured."