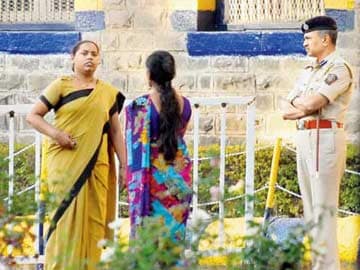 Pune:
There was high drama outside Yerawada Central Jail yesterday afternoon, when two female constables entered into a brawl with a young woman, who had come to visit her father in prison.
Sources say the cops had allegedly demanded Rs 500 from Reshma More, as she did not have necessary documents required as proof of identification.
When More refused, constables Jayashree Kumbhar and Sonali Jadhav allegedly entered into a scuffle with her, and knocked her down in a fit of rage. The incident was witnessed by onlookers and activists, who had flocked outside the jail to protest against the release of actor Sanjay Dutt on parole for a month. On being encouraged by the activists, More's husband filed an FIR against the constables in Yerawada police station. Being an epilepsy patient, Reshma More, who was with her husband and their 2-month-old child, experienced a seizure after the cops smacked her.
When inquired about the incident, a disconcerted More said, "When I had come to visit my father the last time, I was asked to pay Rs 200 as I did not have documents required as proof of ID. But this time, she (one of the constables) demanded Rs 500, and refused to let me visit my father unless I paid up. As I come from a poor family, I couldn't afford such a sum, and I requested the constable to take Rs 200 instead. She got angry at this, and started to abuse me. When I tried to retaliate, she hit me and knocked me to the ground."
Meena Rajput, a social activist who witnessed this incident, said, "The entire system of jail administration is riddled with corruption. They blatantly demand a certain amount of money from the people who come to visit their relatives but fail to furnish the documents required as ID proof. "
"The authorities behave very thoughtlessly with the visitors," she added. "This practice has been going on for many years, where constables keep getting into a scuffles with visitors, and also resort to abuse at times." said Sunita Deokar, another witness, who had come to visit her relative in jail.
Shivaji Bendre, in-charge of Yerawada police chowky, where the FIR was filed, said, "A report will be sent to the jail authorities, where the matter shall be probed further and action might be taken against the two constables."
The other side
When the superintendent of Yerawada jail, Yogesh Desai, was asked about this matter, he denied that any such practice takes place at the entry point, where the names of the visitors are registered in a log. "We do not give entry to visitors who fail to produce their proof of ID, under any circumstances. Scores of people come to meet their relatives in the jail every day, and if we deny entry to them on the grounds of failing to produce an authentic ID, they pick a fight with the cops at the registration point." When asked about the alleged corrupt practices that take place at the registration site, he refuted the claim saying, "These are sincere constables, and we have posted them at the entrance just a fortnight ago. They certainly do not indulge in any such foul practices."