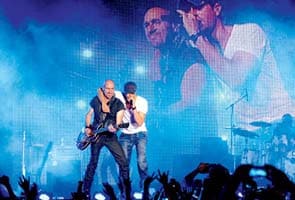 Pune:
It was not all fun and frolic at Spanish singer Enrique Iglesias' concert in the city on Wednesday, as some members of the organising panel yesterday accused the police of highhandedness and said the men in khaki roughed them up at the show.
The police had a different version of what happened, saying they were only ensuring proper frisking at the entrance. One of the organisers, Vijay Nair, said he received a nasty blow on the head while another person complained of a broken hand ligament.
Co-founder and director of Only Much Louder (OML), Girish 'Bobby' Talwar, said: "Around 8.30 pm on the concert night, Mr Pawar, a certain assistant commissioner of police, wanted to bring in guests of his who did not have appropriate passes or wrist bands to enter the event.
The ACP had already been given a substantial number of complimentary passes much before the event for his guests for the Rs 8,000 'platinum gate', but he came up with another group of his guests and tried to slot them into the platinum section without the required passes.
When he was asked how many more guests he had, he started hitting the organiser. He also had a stick in his hand with which he hit the organiser. Vijay Nair has bruises on his back and head, Manish Chandani has bruises all over his back and on his leg, Rajesh Balpande has a ruptured ear drum and has difficulty hearing on his left side and his left hand is in a cast from being beaten with a stick."
Nair, who is also a co-founder and director of OML, said: "I was backstage when I started getting messages from security guards that a group of 30-40 people were trying to enter the venue without any passes.
I tried to stop them and asked the ACP who had these guests with him exactly how many people he was having with him. He was offended and started hitting me with his hands. Later on, two to three people who were with him, caught me, pushed me against the barricade and started hitting me with a stick. I somehow escaped the spot and went to DCP Manoj Patil, who came with me to calm the officer. This is a very shameful incident and we have given a written complaint against the cop at the Hadapsar police station."
Talwar said: "After I heard about the brawl, I went to the location to control the situation. When he was informed, Deputy Commissioner of Police Manoj Patil intervened in the episode. If he had not intervened, the whole episode could have taken a really dirty turn. We want to condemn the incident where the authorities were taking advantage of their position to gain entry to such events."
ACP V T Pawar, the police officer accused of highhandedness by the organisers, said: "There were some frisking issues at the 'platinum' entrance as we found that the security personnel of Only Much Louder were not checking the baggage of the audience properly and when I intervened and reprimanded them, they started arguing with us and later started manhandling us. That prompted us to resort to a mild lathi-charge on the people who were trying to create nuisance and getting into a fight with the police officials."
Deputy Commissioner of Police (Zone IV) Manoj Patil said: "There were some frisking issues and these were noticed by Pawar, and when he intervened, an altercation between the cops and the bouncers and security personnel started and led to a lathi-charge by the police." He said the organisers had given a written complaint and the police were investigating. Twitter was abuzz with comments against the police soon after the incident.