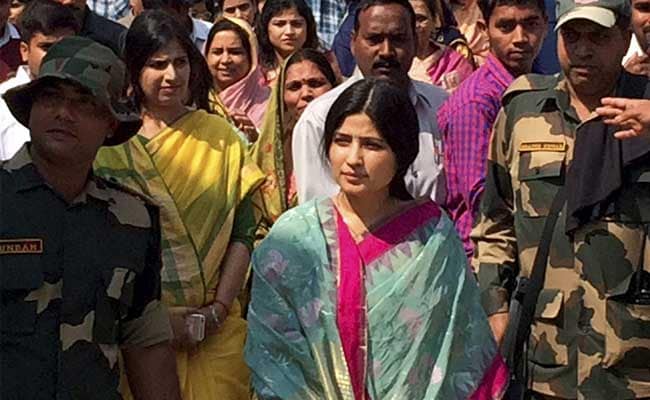 Lucknow:
About a year ago, when her Lok Sabha speech went viral for all the wrong reasons, nobody would have expected a nervous Dimple Yadav to turn into Samajwadi Party's successful multitasker in the UP elections.
Chief Minister Akhilesh Yadav's wife and the soft-spoken
bahu
of the first family in UP has finally found her groove. She has become a major crowd-puller in election rallies across the state.
The 39-year-old Kannauj lawmaker, who fumbled and repeatedly corrected herself as she delivered her scripted speech in the Parliament on Kaushal Vikas mission, has mastered the art of engaging her audience.
Taking pride in her role as UP's
bahu
and
bhabhi
, she has endearingly reprimanded the younger voters with warnings that she will complain about them to their
bhaiya
, Mr Akhilesh, and winning over the elders by seeking '
muhdikhai
' (gift) for her in terms of votes.
While addressing an election rally in Jaunpur, she had said, "...
Main pehli baar poorvanchal aayee hoon...mujhe muh dikhai milegi...poora vishwas hai
(I have come to Poorvanchal for the first time. I am confident I will get the gift of votes as
muhdikhai
)."
Ms Yadav also campaigned for sister-in-law Aparna Yadav, who contested the Lucknow Cantonment seat against heavyweight Rita Bahuguna.
"The demand for her presence in rallies is only rising. She is the 'woman face' of the Samajwadi Party. A lot of women and young people come to her rallies and that is a big plus for us," said Juhi Singh of the Samajwadi Party, who has attended seven of Ms Yadav's rallies.
Ms Yadav has also emerged as the fearless face of the party who takes on her opponents with grace and confidence. Last month, while campaigning for SP candidate and student leader Richa Singh in Allahabad, when Ms Yadav took a jibe at PM Modi saying, "Mere angane mein, tumhara kya kaam hai?", her speech was cheered by hundreds of women who had gathered to meet their Dimple
bhabhi
.
Ms Yadav again hit out at the Narendra Modi government for "deriving political mileage" from the army's accomplishments in Bhadohi.
"I am the daughter of an army man. These people are taking mileage from the martyrdom of our soldiers. They are politicising the army...never seen such a government earlier," the star SP campaigner said said at an election meeting.
Ms Yadav also condemned the Centre's demonetisation move saying the government forced people to "run around" for their own money.
"The Modi government which had promised '
achche din
' did the '
karnama
' of note ban...you were made to run around for taking out your own money from banks...that was your hard earned money...till date there is no detail of how much black money has been detected," said Ms Yadav.
According to party insiders, Ms Yadav's involvement in the just concluded assembly polls wasn't confined to campaigning for the party. She was instrumental in building the SP-Congress alliance for the crucial state polls.
Ms Yadav has also been advising her husband on policies for women and children. He has promised free pressure cookers to poor women if he wins, a scheme that the party has attributed to his wife's influence and insistence.
Her newly acquired political acumen has worked well for the party as well as for her own career growth. It won't be surprising if her supporters demand a larger role for her in the Samajwadi Party now.
(With inputs from PTI)