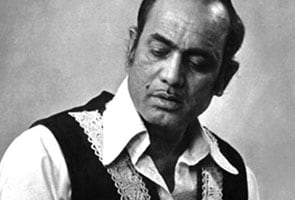 Mehdi Hassan, also known as the Shahanshah-e-Ghazal, died in a private Karachi hospital today. He would have been 85 on July 18. He had been ill for almost 12 years, suffering from lung, chest and urinary tract diseases.
Born in 1927 in a Rajasthani village called Luna, Mehdi Hassan Khan was the 18th generation of a family of musicians hailing from the Kalawant clan. His father and uncle were dhrupad singers, and the young Mehdi Hassan sang dhrupad and kheyal in his first concert. The family migrated to Pakistan after Partition.
Money was hard to come by for the dislocated family, and 20 year old Mehdi Hassan was forced to work in a bicycle shop and then as a car and tractor mechanic. However, he maintained his musical
riyaaz
.
Fortunes changed when the young singer landed his first musical performance on Radio Pakistan in 1957, singing thumris. After that, he never looked back, going on to sing ghazals. He is widely considered the best ghazal singer of all time.
Aaye Kuchh Abr Kuchh Sharaab Aaye
;
Patta Patta, Boota Boota
;
Dil-E-Nadan Tujhe Hua Kya Hai
and
Dil Ki Baat Labon Par Laakar
are among the his all-time hits.
In his long career, Mehdi Hassan also sang playback for many Pakistani films. He also famously dueted with Lata Mangeshkar in 2010, singing
Tera Milna
. Mr Hassan recorded his part of the duet in Pakistan and Ms Mangeshkar hers in India. Ms Mangeshkar, who once called Hassan the 'voice of God', said "A singer like him is born once in a millennium. It is my bad luck that I could not sing with him when he was healthy. Now I can only regret. With his demise the music fraternity has lost a great and legendary singer."
Mr Hassan was also a guru of sorts to Indian ghazal singer Jagjit Singh. He last performed in India in 2000.
Mr Hassan was beloved not only in native Pakistan but also in India and Nepal. He received the Saigal Award in India and the Gorkha Dakshina Bahu in Nepal. In Pakistan, he received the Tamgha-i-Imtiaz, Pride Of Perfromance and Hilal-i-Imtiaz, among other honours.
Mr Hassan was also passionate about Urdu poetry.
Mr Hassan, who married twice, is survived by 14 children - nine sons and five daughters - and both his wives.