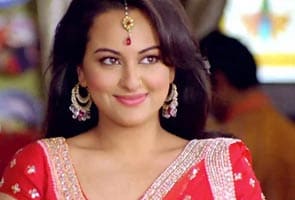 New Delhi:
Sonakshi Sinha, 25, is the unconventional daughter of an unconventional father. In his 40-year career, Shatrughan Sinha played roles ranging from supporting to villainous to heroic - one of only a handful of actors to have done so. Sonakshi seems to have inherited his disregard for the typical Bollywood arc, choosing not to churn out film after film, and starring with heroes a generation above her rather than her chocolate boy contemporaries.
In 2010, Sonakshi made a blistering debut as village belle Rajjo in the blockbuster
Dabangg
, opposite Salman Khan. The movie was a blockbuster hit, taking in more than Rs 140 crores at home and $5 million abroad. She instantly became Bollywood's hottest property. Then, for nearly two years - a lifetime by Bollywood's measure - nothing. Till last weekend, when her second film
Rowdy Rathore
, with Akshay Kumar, opened to a roaring box office welcome. And while the long gap in between films may not have been entirely intentional, Sonakshi chose not to take the easy road to stardom - no bikinis, steamy scenes, item numbers or any of the other commonplace glamour tricks for her.
Her father did not look like a typical Bollywood hero, and Sonakshi does not look like a typical Bollywood heroine. Chubby as a teenager, Sonakshi had to lose 30 kgs over two years to play Rajjo. She's been cast as the girl next door, not the sexpot. Bollywood magazines say she's also considered "old for her years" by actors her age, like Ranbir and Shahid, both of whom are said to have turned down films starring her. So far, she's only played opposite heroes much older than her - Salman is 46, Akshay is 44. Both are said to be very fond of Sonakshi. Salman is by way of being a mentor to her. He spotted her at a fashion show where she was an usher and she credits him with encouraging her to lose weight and become an actress. Salman humorously admits that brother Arbaaz, the producer of
Dabangg
, said to him: "You mad or what? Shotgun sir will kill us!" Sonakshi has two movies opposite Salman coming up, two opposite Akshay, and one opposite 43 year old Ajay Devgn. Her only youthful hero is
Band Bajaa Baraat
actor Ranveer Singh with whom she has one film.
She's also displayed a refreshingly unstarry and self-deprecatory sense of humour. "Sonakshi Sinha's forehead" was recently a Twitter trend and the subject of a number of rather rude jokes. Far from being offended, the actress signed off Twitter for the day saying: "Sonakshi Sinha's forehead is mighty pleased ;) gnite funny people!"
Sonakshi has largely steered clear of romantic attachments, other than a rumoured liaison with Ranveer Singh, her co-star in
Lootera
.
Before
Dabangg
, Sonakshi studied fashion designing and designed costumes for little known film
Mera Dil Leke Dekho
(2005). She marked time as a model in 2008-2009, while she was preparing for her first role. Sonakshi has two brothers, twins Luv, also an aspiring actor, and Kush. Her mother, Punam Sinha, played Hrithik Roshan's mother in
Jodhaa Akbar
(2008) and now chaperones her daughter to showbiz events. Her father continues to act sporadically - last appearing in Ram Gopal Verma's ill fated
Rakta Charitra
(2010) - and juggles a TV career hosting the Bhojpuri version of Kaun Banega Crorepati with a political career, as the BJP Lok Sabha MP from Patna Sahib in Bihar.
After the long gap between her first and second movies, Sonakshi's making up for lost time with no less than six movies coming up. With three of these -
Joker
,
Son Of Sardar
and
Dabangg 2
- out soon, 2012 might just be the year of Sonakshi Sinha.