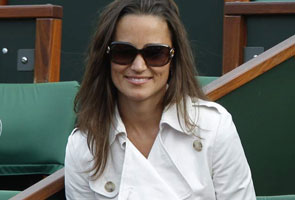 New Delhi:
Who is Pippa Middleton? In early 2011, the answer to that question would have been: nobody. Now, she's a tabloid darling, style icon and a Royal relative. What a difference a year makes.
To be fair, the younger Miss Middleton has been steadily climbing the ladder of public consciousness ever since her sister Kate's romance with Prince William became public and serious. In 2008, society magazine Tatler named Pippa that year's "number 1 society singleton" in deference to her status as most wanted on party guest lists. Real fame came three years later, at Kate's April 2011 wedding to Prince William, courtesy a well chosen bridesmaid's dress that showcased Pippa's slender figure. In her ivory, cowl necked Alexander McQueen gown, Pippa was an instant celebrity, eclipsed only by Kate herself. Overnight, a website extolling the virtues of Pippa's derriere sprang up and almost as much print space was given over to her as was to William's new bride.
Pippa, now 29, was born in Leeds in 1983. Much has been made of the Middletons' "humble origins". In truth, Pippa and Kate are far from being coal miners' daughters, though their mother's family used to be labourers. Instead, they grew up in comfort with every possible advantage. Their parents, flight dispatcher Michael and former flight attendant Carole, became millionaire after starting up a hugely successful company called Party Pieces that sold party supplies by mail order. Both Middleton sisters, and their brother James, were educated expensively at exclusive schools and then at university in Scotland.
Pippa began rubbing shoulders with high society while studying English Literature at the University of Edinburgh, sharing a house with Lord Edward Innes-Ker and Earl Percy, both sons of Dukes. After graduating in 2008, she worked briefly with a public relations firm and then joined event management company Table Talk. By then, Kate was already William's girlfriend and Pippa was a frequent partygoer. Unkind talk branded both girls social climbers. The Tatler article that named her society's favourite singleton also referred to her as someone "who goes to a lot of parties, but mainly as the caterer."
The Royal Wedding in April last year did much to repair her public image. As maid of honour, picture perfect Pippa marshalled her tiny bridesmaids and page boys with grace and efficiency. The Internet was quick to pick up on her burgeoning celebrity status as surfers rushed to heap praise on her demeanour, conduct and appearance. Was she England's most eligible bachelorette? Most of Britain's, and the world's, male population seemed to think so. Reality talent show svengali, the notoriously hard to please Simon Cowell, was so taken with Pippa's beauty that he declared he would sign her up despite her lack of any obvious showbiz talent. His attitude was echoed across the country - everyone wanted a piece of Pippa.
No detail of Pippa's private life has been scrutinized as intensely as the subject of her boyfriends. Wedding watchers speculated about a possible romantic connection between Pippa and Prince Harry, both of who enjoy hard partying reputations. For a brief moment, it looked like it could actually happen. Tabloid reports suggested that Pippa, newly single from her broken relationship with banker Alex Loudon, and Prince Harry had been spending cosy afternoons in a Chelsea pub. Then, just as quickly, Harry's roving eye had moved on. Pippa is now believed to be single.
Pippa has quit her event planner job and now works part time for her parents' company and, despite being a paparazzi favourite, has managed to make little news apart from her choice of outfit for the day.
Till now.
Over the weekend, Pippa found herself in the thick of a gun probe in Paris when pictures surfaced of her sitting in the front seat of a car as the driver waves a gun. She had been a guest at a grand costume party thrown by French entrepreneur Arthur de Soutrait on Friday, April 13. The next morning, she was being driven by Arthur and two other male friends to railway station Gare Du Nord to catch a train back to London, followed by the inevitable paparazzi. The friend driving the car produced what seemed to be a handgun and pointed it at a photographer, to the obvious amusement of a grinning Pippa. It is now known that the gun was fake, but French police were not amused. France is on a security alert after a series of gun murders in parts of the country, and it could mean a jail term for Pippa's friend. Pippa herself faces police questioning and may be summoned to give evidence in court if there is a prosecution. More embarrassment was in store as racy photos of the fancy dress party have now emerged showing a night of decadence involving dwarves, a semi-naked girl in a nun's wimple, and an assortment of risqué costumes.
It is an embarrassment that Pippa's Royal relatives could do without, and one that may tarnish the image that she and Kate worked so hard to build.