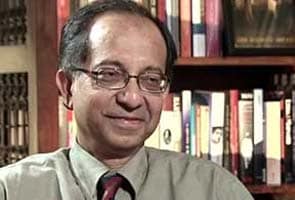 New Delhi:
Kaushik Basu's resume on his website runs into 25 pages. He has authored 15 books and 160 papers on economics and been on the PhD committee of as many as 47 students. He has also been conferred eight awards and honours, the highest of them being the Padma Bhushan, which he received from the Government of India in 2008.
From October 1, 2012, the 60-year-old C. Marks Professor of International Studies at Cornell University will take over as the chief economist of the World Bank.
The Stephanian, who has a PhD from the London School of Economics, is known for his straight talking, an admirable quality that got him into some trouble during his two-and-a-half-year stint as the chief economic adviser of the Finance Ministry.
India is unlikely to see major economic reforms until the 2014 general elections, Mr Basu had said in April, raising a storm among his colleagues in the government. Post-2014, he was quoted as saying, "you would see a rush of important reforms", and after 2015 India would be one of the "fastest growing" economies of the world. Mr Basu later retracted this statement.
A month later, his comments on coalition compulsions and a cautious bureaucracy holding up decision-making in the country again caused uneasiness in the corridors of power.
A more stark statement came in the form of a paper that suggested decriminalizing bribe, arguing that this would cause a sharp decline in the incidence of bribery. Once again, this led to a lot of negative feedback from the political and economic circles, even though Mr Basu said later that he has also received appreciation from the general masses.
International rating agencies, which have been quick to downgrade their outlook on India, have not been spared either. Mr Basu had blamed the "herd mentality" of the ratings agencies behind Fitch's revision of India's rating outlook to negative from stable in June.
Mr Basu knows his forthrightness often gets him into trouble, and he says he has been trying to follow the advice of Amartya Sen, his PhD adviser, who told him to make sure that not only does the whole sentence sound right, but also the subset of words contained therein.
Speaking to a local daily, Mr Basu said: "So many people put their own interpretations to what you say that it effectively places a gag on what you say."
His deep insight into the intricacies of developing economies will be an undeniable asset to the World Bank.
"Having worked in a Ministry of Finance, in addition to his impressive academic achievements, Kaushik is uniquely suited to help us offer evidence-based solutions and advice to client countries and provide innovative excellence in leading our development research," World Bank Group president Jim Yong Kim said on Mr Basu's appointment.
"Thanks so much, everybody, for the good wishes. Greetings from Jakarta," Mr Basu tweeted later.