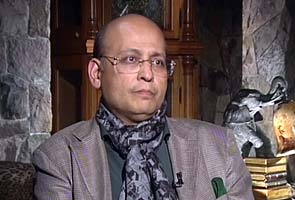 New Delhi:
What will hurt Abhishek Manu Singhvi more? Going viral on the Internet, including the many jokes, or the serious loss of political face? Legally, the top lawyer has moved quickly to have a sleaze CD that purportedly featured him declared morphed and fabricated.
The man who admits to be behind the CD, Mr Singhvi's chauffeur, has admitted in court that he concocted it to embarrass his employer. But the damage was done the moment the CD found its way on to free Internet for a few minutes only. All attempts by Mr Singhvi to obtain a court injunction against its broadcast and block its viewing could not prevent it from going viral on social media.
In a matter of days, Mr Singhvi had to step down as Congress spokesman and chairman of parliamentary standing committee on law and justice. Positions he had assiduously worked to get, climbing the political ladder rung by rung in the party he chose, the Congress. Not the BJP, with which his father, LM Singhvi - an eminent lawyer himself and second of India's longest-serving High Commissioner in the United Kingdom - was associated.
Abhishek Manu Singhvi is one of India's top lawyers. The Rajya Sabha member is the highest earning MP at Rs 50 crore per annum, in a list of those who have declared remuneration.
Born on 24 February 1959 in Jodhpur to LM Singhvi and Hindi writer Kamla Baid, Abhishek Singhvi has a distinguished academic record. He completed his high school from St Columba's School, Delhi. He then got a Master's from St Stephen's College, a Ph.D from Trinity College, Cambridge and a Public International Law (PIL) from Harvard University, USA. He completed his Ph.D. under the tutelage of constitutional lawyer Sir William Wade of Cambridge University. His chosen topic for his doctoral thesis at Cambridge University was Emergency Powers.
His sister Abhilasha Singhvi is a qualified lawyer engaged in humanitarian service as the Managing Trustee of Manav Seva Sannidhi.
Mr Singhvi has the unique distinction of being the youngest person to be appointed/elected Senior Advocate, Additional Solicitor General (ASG) of India and Vice-President, Supreme Court Bar Association (SCBA); he has appeared in several cases that saw landmark decisions of the Supreme Court on Constitutional Law, Commercial Law and several other areas of Civil Law.
He writes a column called
Candid Corner
in the Hindustan Times. His columns have been published as a book titled
Candid Corner: Reflections of Abhishek Singhvi
. He is also a monthly columnist for Dainik Bhaskar. He has written several articles in leading magazines and periodicals. His
Collection of Legal Writings
and
Emergency Powers: A Comparative Study
are still under publication.
Abhishek Singhvi married
ghazal
and Sufi singer Anita Singhvi in December 1982. He has two sons, Anubhav and Avishkar, aged 28 and 25 respectively.
He lives in New Delhi's Niti Bagh and lists badminton, cricket, table tennis, chess, golf, reading, writing, swimming, movies, ghazals and Sufi music, travel and electronic gizmos as his favourite pastimes.